Follow this innovation
[
via
]
[?]
Innovation
Increased efficiency and reduction in energy consumption for heat and power generation in residential and commercial appliances can have substantial impact. There is an untapped potential to obtain power from a modified gas burner by making use of the magneto hydrodynamics generator that uses the normal flame ionization in equipment or appliances to self-generate electricity that can be used to help offset or reduce the amount of electric power required for operation. Thus, electric power and heat can be obtained. In the past the use of magneto-hydrodynamic generators (MHD) to produce electricity has been limited to utility-scale applications. It would be desirable to use the MHD principle to generate electric power from commercial and residential appliances that are traditionally used to generate heat only. Significant research has been undertaken, at University of California Merced, to develop the first stage of a new generation of appliances that reduce power consumption by self generating electricity based on the magneto hydrodynamics principle, and to provide an invaluable source of information about the performance of ionized-flame burners and MHD generators for residential and commercial applications.
Suggested Uses
The invention could be commercially significant. It is generally applicable in commercial or residential production of heat and power, and common household appliances that require both electric power and natural gas, such as space heaters, clothes dryers, water heaters, swimming pool heaters, etc.
Advantages
The invention enables power generation without the need to increase the amount of fuel used, and contributes to the reduction of pollutants due to lowering the amount of electric power drawn from the grid.
Innovation Details
Detailed Description
An innovative apparatus, system and method, invented by Researchers at UC Merced, are provided for generating electricity in a residential or commercial appliance that combusts a gaseous fuel with the purpose of generating heat. The system includes a burner and one or more nozzles to produce one or more flames for providing a source of heat to the appliance. A magneto-hydrodynamic generator is located proximate to the burner and includes a pair of high-intensity permanent magnets configured to create a magnetic field perpendicular to the flame. A pair of power-electrode plates arranged in parallel to one another and perpendicular to the magnets define a channel there between. An electrical potential is obtained between the two power-electrodes plates and power can be obtained by closing the circuit. Figure 1 shows the configuration.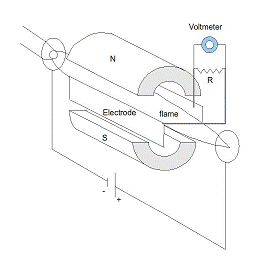 FIGURE

1—Magneto hydrodynamics generator.
IP Protection
| | |
| --- | --- |
| Copyright: | ©2011, The Regents of the University of California |
License Online
This innovation currently is not available for online licensing. Please contact David Cepoi at University of California System: University of California, Merced for more information.
request more info
Capture as PDF
People
[?]
Followed By
Organization
---